News
An inspirational talk about Careers in Law
1st January
An inspirational talk about Careers in Law
Delivered by Anna Clark and Yagmur Yarar from Macfarlanes LLP
May the 1st 2019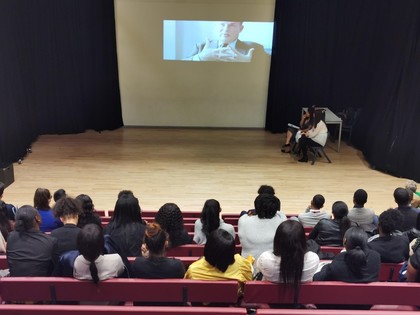 We were exceptionally fortunate to have Anna Clark (Graduate Recruitment Team) and Yagmur Yarar (First year Trainee Solicitor) from Macfarlanes speak to a group of students at Harris South Norwood on Wednesday the 1st of May 2019.
Macfarlanes a Silver Circle Commercial Law firm based in the City of London are looking to attract a diverse range of employees to their firm. They offer a wide range of career opportunities within the firm and Anna and Yagmur explained their journeys into Macfarlanes.
Anna graduated from the University of Strathclyde where she studied a Degree in Human Resources and Management. Anna worked in Glasgow before she moved to London to join Macfarlanes in 2016 as part of their Graduate Recruitment team.
Yagmur explained how she was the first in her family to consider going to university and following a careers event at her school in Islington she started to research into Law degrees and a future as a solicitor. Having spent two weeks with Macfarlanes in her second year at university she was fortunate to secure a Training contract with the firm. Graduating from the University of Nottingham Yagmur was sponsored through her Legal Practitioner's course by the firm and is now in her second seat of a four seat rotation. Yagmur will qualify as a Solicitor in 2020.
They both explained the different routes into a Law career and explained that approximately 50% of their trainees have Law degrees and 50% will complete the Graduate Diploma in Law following a non-Law degree. They then have to complete the Legal Practitioners Course. They also spoke about how one can now train to become a solicitor by completing an apprenticeship.
Following the 35 minute presentation Harris students from Beckenham, Bromley, Battersea, Merton and the host academy South Norwood asked numerous excellent questions to find out more about a career in Law.
With over 50 students in the Main Hall all exceptionally well turned out, and listening intently to both the presentation and the subsequent questions and answers. Both Mr. George and I felt exceptionally proud to be part of this event. The students from all academies were a credit to the Harris Federation
I would like to take the time to thank Anna Clark and Yagmur Yarar and Macfarlanes for delivering such an interesting and informative presentation on both Macfarlanes but the variety of different careers in the Legal Profession.